Best New Betting Sites in Australia
Australian betting sites have had to be more creative than ever before as changes in legislation banned promotional incentives to get new sports fans to sign up. Online betting agencies have instead focused on adding value to their membership and rewarding loyal customers and those who have newly signed up, with excellent service, increased odds and more value for money.
Betting fans in Australia can now view and claim promotions from bookmakers only once they have registered an account. In this guide, NewBettingSites provides accurate insight and honest reviews on Australia's current and newest online betting agencies, to help you make an informed decision as a punter.
There are countless betting sites online, and the best of the best is to be found right here, in the land down under. We have narrowed it down to the absolute best the industry offers and present you with our top and favourite bookmakers, list Australia's best betting sites, recommended top performing apps and introduce the latest best new betting site in this guide.
Australian Betting Sites We Recommend
Top 20 Australian Betting Sites
How To Rank The Best Betting Sites
After careful consideration, extensive research, and balanced analysis, we have listed our choice of best betting sites in the table above and invite you to browse our top 20 selection. Below is some insight into the factors we consider when we review and recommend sports betting provider as a leading Australian betting site.
Ease of use: Fast and efficient navigation is critical, as customers don't want to feel lost on a betting site, especially not when a pressing wager needs to be placed. An intuitive website with a clean layout and easy navigation is what bettors need want and need.
Safety: Customer safety when betting online is important and bettors must be able to trust that bookmakers have put ample security measures in place to protect their data and their privacy. Security measures such as Know Your Customer (KYC), firewalls and 128-bit encryption are imperative in gaining your trust.
Fees: Thankfully, the fees (if any) are minimal as Australian regulation sets the parameters for what a bookmaker may charge. Charging hefty fees to withdraw, transfer or deposit is abolished from betting sites in Australia to protect the customers best interests.
Odds: This is a key factor and ultimately the most important detail to look at when ranking a bookmaker. No matter how good the features and promotions of a bookie are, high payout odds are what may tip a punter to use one over the other. We always recommend choosing a bookmaker with competitive odds.
Australians love betting on sports almost as much as they enjoy watching it, but betting regulations are much stricter here than in most other jurisdictions. However, despite operators being unable to advertise free bets or welcome bonuses, it has not stifled the industry. In fact, implementing stricter regulations has only encouraged bookmakers to offer better value for money and has breathed new life into an already popular (and legal) Aussie hobby.
At NewBettingSites we understand what you care about and therefore have taken great care when advising our readers in this guide. Read on and find out more!
Top 10 Australian Betting Sites
We've looked at the best betting sites available on the market and compared the odds, considered the promotions and features, and reviewed the value the bookmakers offer. Here is what we consider being the top 10 betting sites on offer to Australian punters:
| Bookmaker | Reasons to Recommend | Code |
| --- | --- | --- |
| Ladbrokes | Live Racing & Sports streams | BLACKBOOK |
| Neds | Neds Toolbox feature | BLACKBOOK |
| WinnersBet | 100% Australian | BETS |
| RobWaterHouse | Live Stream Racing, 100% Australian | BETSAU |
| TopSport | Top Odds, 100% Australian | BETS |
| bet365 | The world's favourite bookmaker & live streaming | BESTBETS |
| Bookmaker.com.au | Favourite vs Field Betting | BLACKBOOK |
| Palmerbet | Impressive Racing Markets, 100% Australian | Join |
| betstar | Pick your own odds | BLACKBOOK |
Australian Online Betting Sites
Australia boasts some of the world's best bookmakers and online betting sites. Sports betting in Australia is more popular now than ever before and our list of top 10 AU betting sites will help you choose the perfect betting site for your needs. We have reviewed each bookmaker based on placing a bet, odds, payment methods available, cashing out, ease of use and features the betting site promotes. NewBettingSites presents you with the best Australian betting sites and gives a comprehensive verdict on which one's stand out from the rest.
Australians can now join the increasingly popular world of online betting in a matter of mere seconds and place a bet on today's horse racing or punt on any market of their choosing - wherever they may be and whenever they choose to. Joining a trusted bookmaker is crucial, we recommend using our guide as a measuring stick when deciding which bookmaker to spend your time and money on.
Favourite New Australian Betting Sites
Australian punters are always looking for exciting and unique ways to bet, and it's no surprise that new online betting platforms launch regularly. NewBettingSites goes in search of the best betting sites and stays on top of the newest bookmakers entering the market. We assess, review and recommend only the best new Australian betting sites, so you can make an informed decision about where to join.
You may choose to stick with your favourite betting agency, or you may shop around for the bookmaker with the best odds before placing your bet. Either way, it's worth having a regular look at the newcomers to the online sports betting arena. You may just find a brand new way to bet and a new betting site that better suits your needs.
New betting providers come to the market with unique selling points, promotional offers and features to give bettors the best value for their buck. We examine what each new betting site offers, and review and rate them based on what types of markets are available, how the odds compare to established competitors and what features you can expect to find. Have a peek at our reviews section and read everything you need to know about the best new Australian betting sites.
Ladbrokes Australia
#1 Betting Site 2022
Well-established brand

Strong site security

Top-rated mobile apps

24/7 Customer support available

Great selection of payment methods
Better odds to be found elsewhere
Less futures markets than competitors
When it comes to sport betting brands, they usually don't get much bigger than Ladbrokes. This world-renowned bookmaker has been in existence for more than 130 years. During this time, they've developed a stellar reputation for offering competitive odds across a wide variety of sport betting markets.
Visit Ladbrokes Australia's homepage and you will encounter a site that is incredibly simple to navigate. Customers will easily be able to locate their favourite sports as well as information relating to rules, payment methods, FAQs and much more.

One of the standout features of Ladbrokes Australia is its customer service offering. Their team of highly professional and friendly operators are available 24 hours a day, 7 days a week. Ladbrokes have made it easy to get in touch with their agents, with multiple communication channels available including live chat, landline, or even by dropping a message query on their site.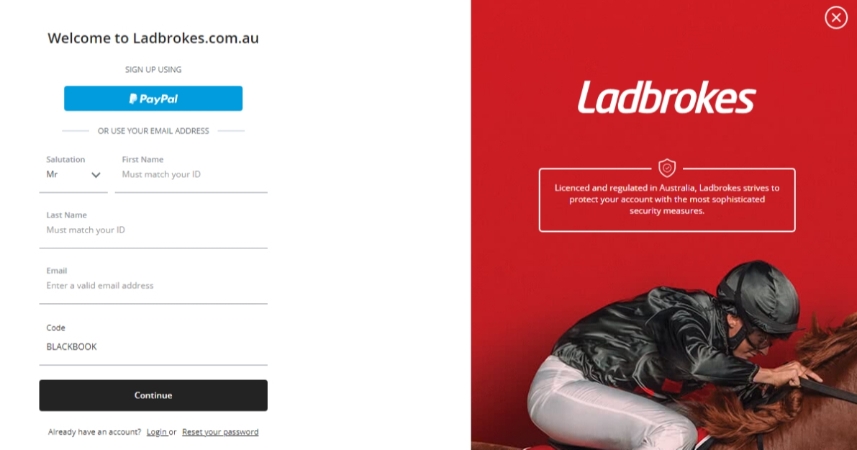 All Licensed Online Betting Sites
(In Alphabetical Order:)
bet365
BetDeluxe
Betdogs.com.au
Betfair
Betright
Betstar Australia
BlueBet
Bookmaker
Boombet
Draftstars Australia
Ladbrokes Australia
Neds
Palmerbet
Picklebet
PlayUp
RobWaterhouse
Sportsbet
TAB
The Lottery Office
Topsport
Unibet Australia
WinnersBet
Top Australian Bookmaker Reviews
Let's take an even closer look at the best of the best and narrow the list down to a chosen few top Australian bookmakers. We look at the pros and cons of each that we could identify and reveal why we chose specific brands as our favourites.
We here at NewBettingSites are passionate about our research, and even more determined to provide Australian sports bettors with the best insight on which bookmaker to sign up with. Every brand we list deserves to be named and has earned its place on the list.
Our reviews provide the most up-to-date information so you can make an informed decision about what is currently available to new customers today. Let's look at what makes these betting sites so special and why sports betting fans should try them out:
1. Ladbrokes
This sports betting brand is a global leader in the betting industry and has been around since 1886. They expanded exponentially when bookmaking was legalised by the British government in the 1960s. This established company has an outstanding betting history in Australia, an exceptional reputation and offers punters a betting experience like no other.
Ladbrokes' website and app are arguably one of the best in the business, and it hosts a wide range of racing and sports betting options. Their excellent promotions, unique host of products, Daily Tipping competitions and sports offers are hard to beat. They also offer their members a Visa debit card, which is a world-first for corporate bookmakers.
Bettors choose Ladbrokes for its excellent client support, and in an industry where service is often lacking, this is a big reason sports fans are betting with them. Their dedicated customer service team offers guided help, quality support and is available to their members 24/7. We highly recommend Ladbrokes Australia as they provide more options and more value than just about any other bookmaker. Ladbrokes are already top-notch, even so, they always try to improve so sports fans can enjoy their experience with them even more.
PROS:
Best daily offers and promotions
Fort Knox security
Huge range of markets
Excellent customer support
Easy withdrawal and deposit options
CONS:
Owned outside of Australia
No live streaming options yet
2. Neds
The former boss of Ladbrokes Australia created this 100% Australian company in 2017, and Neds is the best new betting site for racetrack wagering. Neds have the best-dedicated coverage of Australian horse racing and the leading information about the worldwide horse and greyhound races available. Their website automatically updates itself every thirty seconds and has a very impressive live betting section.
Neds offers the biggest range of racing promotions and has launched 'Punters Toolbox', which brings daily fantastic offers to all racing markets. They run special promotions on feature races and sporting events, giving bettors more value for money. They get our top pick for bookmakers with the best daily promotions.
PROS:
100% Australian
Best coverage of global horse racing
Great live betting section
24/7 Betting Line and customer support
Best range of betting promos
CONS:
Lack of streaming offers in comparison
Live bets must be telephoned in
3. WinnersBet
This may be one of the easiest online betting websites to use and such comes highly recommended for new sports betting fans whether they bet on PC or mobile. WinnersBet has a wide variety of Australian and International racing options and has many more alternative sports that are covered.
WinnersBet offer bettors access to thirty-three sporting markets with soccer, cricket, tennis, basketball, and volleyball being a few of the sports on offer. Their betting site is simple, easy to use and highly intuitive and makes navigation and the placing of bets hassle-free. WinnersBet has an equally good mobile app, specifically designed to enhance your betting-on-the-go experience.
PROS:
Wide variety of AUS & international racing options
Easy to use and intuitive website
100% Australian
Fast payment processing times
Offers Best Tote & SP odds
CONS:
No standout features
Fewer smaller sports betting markets
4. Sportsbet
Sportsbet is one of our favourite Australian betting sites for horse racing with the added benefit of updating you in-app on where the leading meets are being televised. Placing a bet on a horse race is easy and punters have plenty of other markets to select from on the Sportsbet website or app. The odds are consistently high across all markets, and you can bet on thousands of events including sports, horse racing, novelties, and politics.
Did you know that Sportsbet.au was the first online bookmaker to launch in Australia? They may be the oldest online bookmaker, yet they still rank amongst the biggest and best. We like their mobile app and love their website and think Sportsbet deserves a spot in our top 5.
PROS:
Covers all the top horse racing markets
Free live streaming of AU & NZ racing
Easy to deposit and withdraw
Consistently high odds
Cash Card allows instant access to winnings
CONS:
Known to limiting betting amounts of big winning punters
No available sign-up offers
5. RobWaterhouse
RobWaterhouse offers an excellent selection of horse racing betting, live race streaming and fantastic promotions. They may be a new online betting site but already feature as one of Australia's most renowned bookmakers. Their name needs no introduction as Rob Waterhouse is a third-generation bookmaker who has recently made his move into the online wagering industry.
He has already delivered a quality betting platform with his very first venture, living up to the reputation the famous Waterhouse bookmaking family has created. NewBettingSites can highly recommend RobWaterhouse as a leading bookmaker.
PROS:
Exceptional horse racing service
Live stream
Rob's Lay of the Day
An enormous range of markets
Excellent promotions for their members
Easy withdrawal and deposit options
CONS:
Choice of sports markets less than other sites
No live streaming options yet
Best Horse Racing Bookmakers for Australia
Horse racing may well be the most popular Aussie hobby there is and is a favourite sport to bet on amongst local sports fans. Horse racing has grown into an online platform over the years, so punters don't need to head over to the local TAB to place a bet anymore. Australians can choose from betting on the Melbourne Cup, Cox Plate and Caulfield Cup annually or wager on the racing events every weekend.
Mobile platforms like smartphones or tablets allow bettors to place their punt on the go and apps across all markets are available on both Android and iOS platforms. Whether you are on your phone, tablet, or PC, you can do it all online.
Horse Racing bookmakers have flooded the market and competition is fierce amongst online betting providers. You can expect to find competitive odds, good value for money and added value features with almost every bookmaker online.
Top 10 Horse Racing Betting Sites:
Ladbrokes Australia
Neds
WinnersBet
Sportsbet
RobWaterhouse
bet365 Australia
BoomBet.com.au
TopSport
PlayUp
Unibet Australia